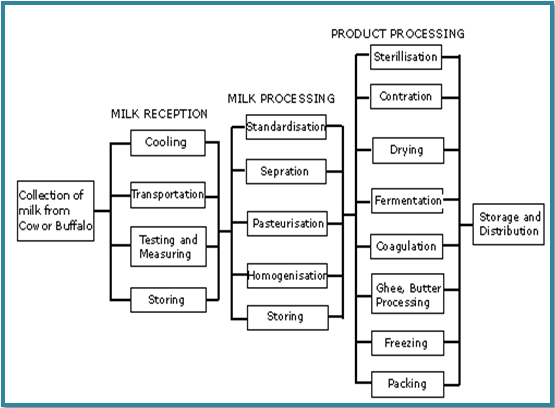 The milk producers from the primary milk co-operative society at village level with the help of district Milk Union with set rules and regulations under the co-operative Act.

The surplus milk available with milk producers is collected at village Dairy co-operative society, separately as cow and buffalo milk. The members of Village Dairy Co-operative Society pour the milk; available with them, morning and evening at scheduled time.

The Village Dairy Co-operative Society purchase milk from them generally on fat % basis, at the price decided by the milk union. The quantity of milk collected at village Dairy Co-operative society varies from 50 liters to few thousands liters per day.

The village Dairy co-operative Society uses stainless steel cans to store and transport the milk collected by them to Chilling center/dairy plant. The Dairy Society collecting more than 500 liters of milk per day, usually go for installing Bulk Milk Coolers of required capacity at their society, under the financial and technical help through milk union.

The milk union organizes the milk procurement routes using different capacity of vehicles or tankers to transport the milk in such a way that the collected milk reaches the dairy dock in shortest possible time before it chilled and processed.

The milk union purchases the milk from Dairy Co-operative Societies on fat % and SNF % basis. The milk at Dairy dock is weighed in kilograms.

The payment of the milk received is based on its quality and accordingly the milk payments are arranged through Transfer facilities every 10 days on fixed dated through scheduled bank branches.

The authorized Dairy Co-operatives representative withdraw the amount from their respective bank branch and arrange for the payment to their milk producers members on mutually decided periodical schedules.

The milk union operates a special wing to educate and train the concerned personals to help and supervise the whole process. The periodic accounting and administration, supervision and audit are also arranged.